Updated Coronavirus (COVID-19) Resources for Providers
EmblemHealth is continuing to work closely with our provider partners to ensure member access to care and vital services during the coronavirus (COVID-19) outbreak. Here are some changes and information we updated since our last newsletter:
We updated the Temporary Telehealth Policy and Frequently Asked Questions since the March issue of In the Know. A guide for Teledentistry was also distributed to in-network dentists.
The New York State Department of Financial Services required that certain utilization management and emergency notification requirements for inpatient hospital and emergency services be suspended for 90 days beginning March 20. This change helps free up vital resources for patient care at hospitals and facilities. EmblemHealth decided to extend this to our Medicare Advantage plans. If your facility wants to continue to coordinate care for your patients, our teams are available to work with you. Please click here for more.
Continue to visit the dedicated provider COVID-19 section of our website for the latest information and policy changes.
The Centers for Medicare & Medicaid Services (CMS) has opened a special enrollment period through May 31, 2020 for people eligible for Medicare plans. New York State has opened a special enrollment period through May 15, 2020 to help uninsured New Yorkers get coverage as the coronavirus spreads.
Thank you for partnering with us through this challenging time.
MEDICAID, HARP, AND CHPLUS UPDATES
(STATE-SPONSORED PROGRAMS)
New Child Health Plus ID Cards
EmblemHealth will begin issuing new member ID cards for Child Health Plus on May 1. The new cards have "CHILD" listed as the program and will show that a referral is required.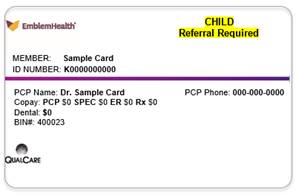 Medicaid: New York State Medicaid Update
The Office of Health Insurance Programs of the New York State Department of Health has posted its April Medicaid Update. This month's issue highlights New York State's new online enrollment process for providers interested in offering Medicaid services.



CLAIMS CORNER

The Claims Corner section of our website is a rich source of information that helps your practice navigate EmblemHealth claims and billing processes. Please check often to see posted updates.

TIP: Billing Correct Payor for Medicare Hospice Care

EmblemHealth covers hospice consultation services (one time only) for a terminally ill Medicare Advantage member. Thereafter, hospice providers should submit claims for hospice care related to the terminal diagnosis directly to Original Medicare. EmblemHealth will continue to pay for care that is unrelated to the terminal condition.

Sign Up for Free

Through PNC Remittance Advantage, you can receive direct deposits to your bank account(s) (electronic funds transfer) and view or download your remittances online (electronic remittance advantage). Electronic transactions are fast, convenient and reduce the risk of lost or stolen payments. This solution is free and allows you to reduce payment processing costs and improve cash flow. Visit PNC Remittance Advantage, click on the "Register Now" button, and follow the instructions to enroll. Read More.



CLINICAL CORNER

Updated Clinical Practice Guidelines

The following Clinical Practice Guidelines have been updated and are available on provider website.

Medical Policy Updates

All Medical Policies are available for download in Clinical Corner on our provider website.

Medical Technologies Database

A comprehensive listing of medical technologies reviewed by the Medical Policy Committee for coverage consideration is available for download in Clinical Corner on our provider website.



PHARMACY

EmblemHealth updates its Formulary on a regular basis. Find our most recent updates here.



WEBINAR/TRAINING

Join us May 13 for our monthly webinar

The next session of our monthly webinar series will be held on Wednesday, May 13 from 10 to 11 a.m., and again from 2 to 3 p.m. Practitioners and office staff are welcome to join this monthly webinar that provides an overview of our products and benefit plans, special utilization management programs, and how to navigate our provider portal. Register today as space is limited.