Coronavirus (COVID-19) Resources for Providers
No Referrals Necessary for Medicare During COVID-19 Emergency
During the COVID-19 State of Emergency, EmblemHealth will follow the Centers for Medicare & Medicaid Services (CMS) guidelines and waive the requirement that Medicare Advantage members obtain a primary care physician referral to receive specialist services.
Updated Telehealth Policy and Frequently Asked Questions (FAQ)
A new Temporary Telehealth Policy, list of applicable procedure codes, and FAQ is available online to help you navigate the new way of delivering patient care during the pandemic.
Updated COVID-19 Lab Testing Guidance
We've also updated our website with additional guidance for lab testing and coding, including Reporting HCPCS codes U0003/U0004 for COVID-19 Lab Tests.
Use Telehealth to Close Care Gaps
Making sure your patients have access to the care they need – when they need it – remains an important goal during this ongoing pandemic. Click here to learn how you can use telehealth to close gaps in care and get the data needed for commercial, Medicaid, and Medicare Advantage health plan risk adjustment programs.
CARES Act
EmblemHealth will follow Medicare guidelines in the Federal COVID-19 stimulus bill (known as the "CARES Act"). Click here.
We continue to update information for our providers so that you have the latest information about COVID-19 and how it impacts our plans' policies and procedures. Please visit our provider website for up-to-date information and resources regarding COVID-19.
Thank you for the work you do in continuing to care for our members during this ongoing emergency.
New ID Numbers and Cards for GHI PPO City of NY Members Coming in July
On July 1, 2020, City of New York members with GHI PPO plans will move to our new claims platform. Members will be issued the same type of member ID numbers (the "K-ID") as other members on the new system. Click here to see changes that will apply once the new K-ID is in effect.
New ID cards with K-IDs will be issued. EmblemHealth ID cards will have the full 11-digit K-ID. To facilitate coordination of care, Empire BlueCross BlueShield will use the same K-ID, but their ID cards will only have the first 9-digits displayed. See Sample ID Cards
Beacon Health Options will begin processing behavioral health claims for GHI PPO City of New York members. Beacon's information is being added to the back of the EmblemHealth member ID cards.
In-Office Lab Testing rules will apply to City of New York GHI PPO members along with all other EmblemHealth members
May is Mental Health Awareness Month
May is Mental Health Awareness Month and our members' physical and mental health is very important to us. During this time of isolation and social distancing, your patients may be struggling with mental health issues. We have shared tips with our members to help improve and maintain their mental health.
Please talk to your patients who may feel overwhelmed and let them know they can call us for confidential, 24/7 support at 888-447-2526 (Montefiore members 800-401-4822). The Live Well section of our website also includes helpful tips for maintaining mental wellness.
MEDICAID, HARP, AND CHPLUS (STATE-SPONSORED PROGRAMS) UPDATES
New "CHILD" ID Card for Child Health Plus Members
EmblemHealth Child Health Plus (CHPlus) member ID cards have changed. The plan name on the upper right-hand corner now says "CHILD" and does not otherwise reference the state program. We added "Referral Required" below the plan name to clarify that members in this plan do need a referral for specialist care. Members were issued the new ID cards in April, as announced last month. None of the Child Health Plus plan benefits have changed.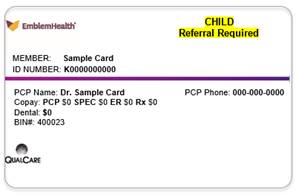 Medicaid Rate Reduction Begins August 1
Earlier this year, New York State instituted an across-the-board reduction in the Medicaid rates paid to providers and health plans. The rate reduction, a total of 1.5 percent, affects every provider servicing Medicaid members where there is no fixed rate.
We know this cut comes at an extraordinary time in health care. EmblemHealth has fully absorbed the cost of this rate reduction over the first half of the year, shielding its provider network from the effect for as long as possible.
This is not sustainable, and it is vital that we keep our Medicaid plan cost-effective for the long term both for our partners and our most vulnerable members—lower income individuals, children and people with disabilities.
Therefore, this rate reduction will go into effect for non-exempt EmblemHealth providers for dates of service no earlier than August 1, 2020.
Please click here for more information on the services impacted by this rate reduction.
Please reach out to your relationship manager if you have any questions. We value your partnership and the care you provide to EmblemHealth members.



CLAIMS CORNER

The Claims Corner section of our website is a rich source of information that helps your practice navigate EmblemHealth claims and billing processes. Please check often to see posted updates.

New Claims Editor – Zelis

Effective April 1, 2020, EmblemHealth has partnered with Zelis Healthcare to introduce a new editing tool that provides fast, accurate, and customized claims editing, while being fully compliant with changing guidelines. Learn more.



CLINICAL CORNER

Updated Clinical Practice Guidelines (CPGs)

Clinical Practice Guidelines have been updated and are available on our website.

Medical Policy Updates

All Medical Policies are available for download in Clinical Corner on our provider website.

Medical Technologies Database

A comprehensive listing of medical technologies reviewed by the Medical Policy Committee for coverage consideration is available for download in Clinical Corner on our provider website.



PHARMACY

EmblemHealth updates its Formulary on a regular basis. Find our most recent updates here.



WEBINAR/TRAINING

Join us June 10 for our monthly webinar

The next session of our monthly webinar series will be held on Wednesday, June 10 from 10 to 11 a.m., and again from 2 to 3 p.m. Practitioners and office staff are welcome to join this monthly webinar that provides an overview of our products and benefit plans, special utilization management programs, and how to navigate our provider portal. Register today as space is limited.